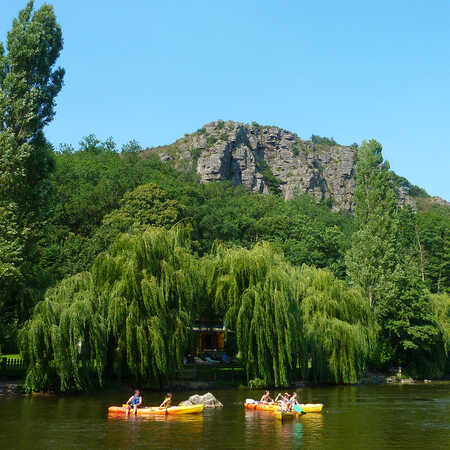 Canoe Kayak sur l'Orne, près de Clécy © Calvados Tourisme
south
The Suisse Normande and its hills
The Suisse Normande has dramatic hilly landscapes carved out by the Orne, the most important river to cross Normandy after the Seine, its valley and tributaries marked by cliffs, gorges and densely wooded slopes.
From around Saint-Omer and southwards, enjoy magnificent viewing points. With the Pain de Sucre (Sugarloaf), reaching 214m in altitude, as well as with the other major rocky heights around the Park, take to the panoramic heights. This is a great spot for trying out hang-gliding too! 
The Orne has carved its way through rocky gorges, offering a wonderful, testing route for canoeists. In the Normandy hills above, you can not only go hiking, but also rock-climbing and hang-gliding. You can also take in the Orne Valley on a boat trip from Clécy, or even by pédalo or in an electric boat. Or then there are outdoor recreation centres at Pont-d'Ouilly and Beau Rivage, providing further canoeing possibilities. It's all ideal for outings among friends or with the family.
Cultural stops include the Château de Pontécoulant and the Musée du Peintre Impressionniste Hardy at Clécy, or then marvel at one of the largest miniature model railway sets  in Europe! 
Don't miss the village of Clécy itself, with its buildings made of stone and slate. It's a lovely place to stop for a riverside lunch.
In summer, enjoy the guinguettes, or outdoor riverside restaurants, at Pont-d'Ouilly, with waterside concerts laid on at which locals and tourists mingle in a jolly atmosphere. 
favorite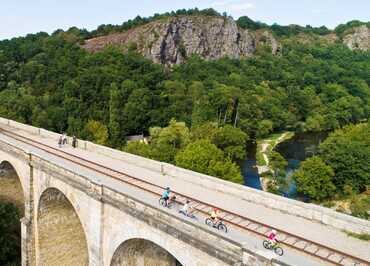 favorite