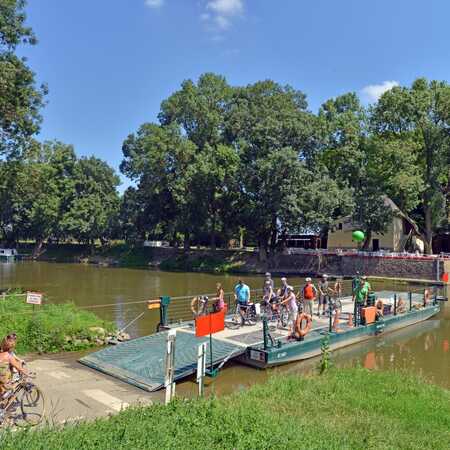 L'Île Saint-Aubin à vélo © J. Damase
south
Saint-Aubin Island and its House of Environment Home
North of the great city of Angers, the Saint-Aubin Island is a remarkable natural site in the Basses Vallées Angevines area, where several rivers converge before joining the Loire. The island, often flooded in winter, extends across 600 hectares in summer, when it's covered with meadows.
To get onto l'Ile Saint-Aubin, you need first to take the little ferry located at Port-de-l'Ile, on the Mayenne River and located right on the Mayenne greenway.
In summer, l'Ile Saint-Aubin covers 600 hectares and offers a wonderful natural world to explore. Once off the ferry, you have two options. Either enjoy the Guinguette du Port-de-l'Ile, an outdoor restaurant encouraging you to drink in the island atmosphere, or head straight on to discover the island either by bike or on foot.
A signposted nature trail leads you across the meadows to the Maison de l'Environnement de l'Ile Saint-Aubin. Here, a permanent exhibition explains the shifting life on the island, while events are also put on, on themes such as gardening, ecology and the autumn deer rut…
Generally, you can get onto l'Ile Saint-Aubin from late-April to October, although there can still be the odd flood that covers the island during this period.
Visit Saint-Aubin Island and its House of Environment