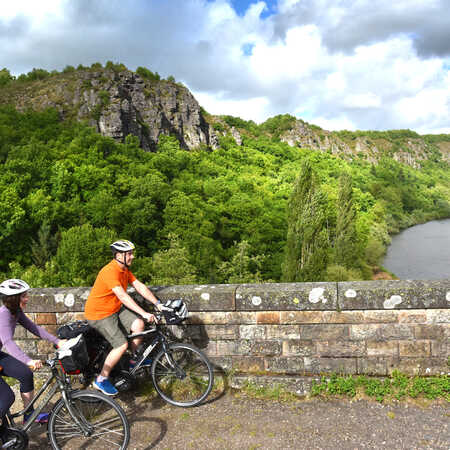 Viaduc de Clécy à vélo sur la Vélo Francette © Calvados Tourisme - J. Damase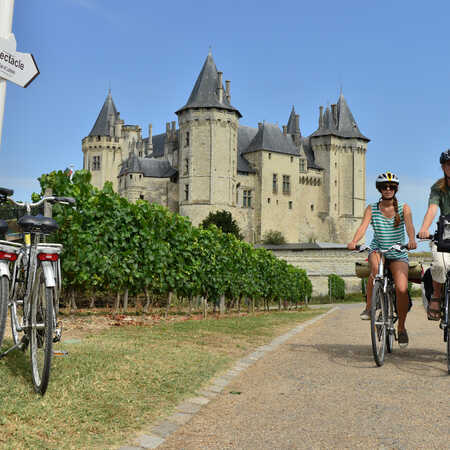 The castle-palace of the Dukes of Anjou © J. Damase – Maine-et-Loire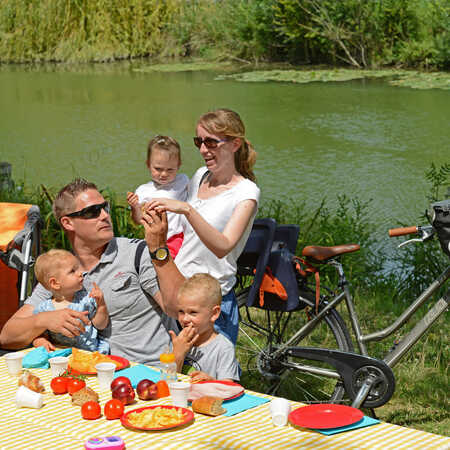 Pique-nique vélo en famille © J. Damase - Charente Maritime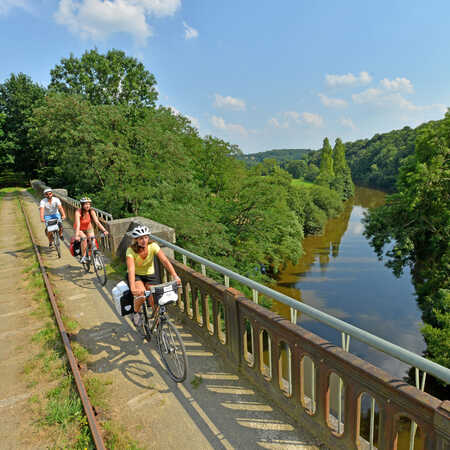 Vélorail d'Ambrières-les-Vallées © J. Damase - Mayenne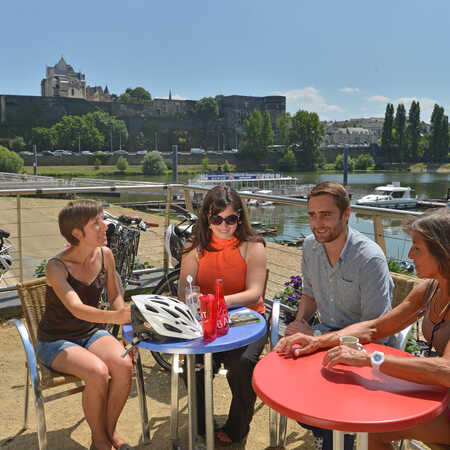 Dégustation sur le port fluvial d'Angers, en bord de Maine © J. Damase – Maine-et-Loire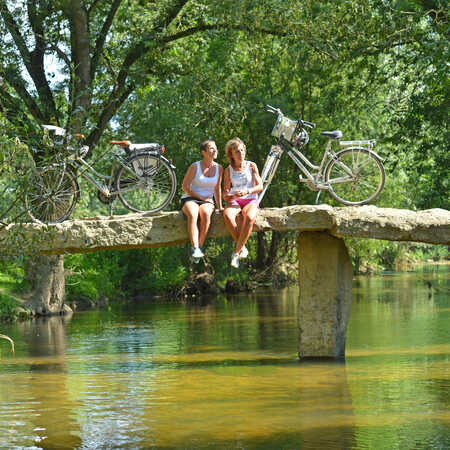 Le Thouet à vélo - pause sur un pont
Découverte de Coulon et la Sèvre Niortaise à vélo © J. Damase – Deux-Sèvres
south
La Vélo Francette
Over 600km of cycle route, largely running beside rivers
It generally follows the course of river valleys, introducing you to beautiful towns and villages along the way, as well as to the gentle French countryside all around.
More than 600 km of cycling route along the rivers
The new cycle route baptized La Vélo Francette® has been created to complete the network of major cycle routes crossing western France. It offers an unbroken, signposted track, mainly running beside waterways, along which you can appreciate the joys of pretty towns and villages and the peaceful French countryside. It really provides cyclists with an intense taste of gentle, unspoilt France as you enjoy what can definitely be classed as 'slow tourism'!
617km along which to meander by bike
7 départements, or French counties, to discover along the route
3 protected regional natural parks to cross
25 towns and villages especially distinguished for their historical and cultural riches to visit
Information about La Vélo Francette's route
Maps and descriptions of the route
For you to be able to access information on La Vélo Francette more conveniently, we've divided the route into 24 stages.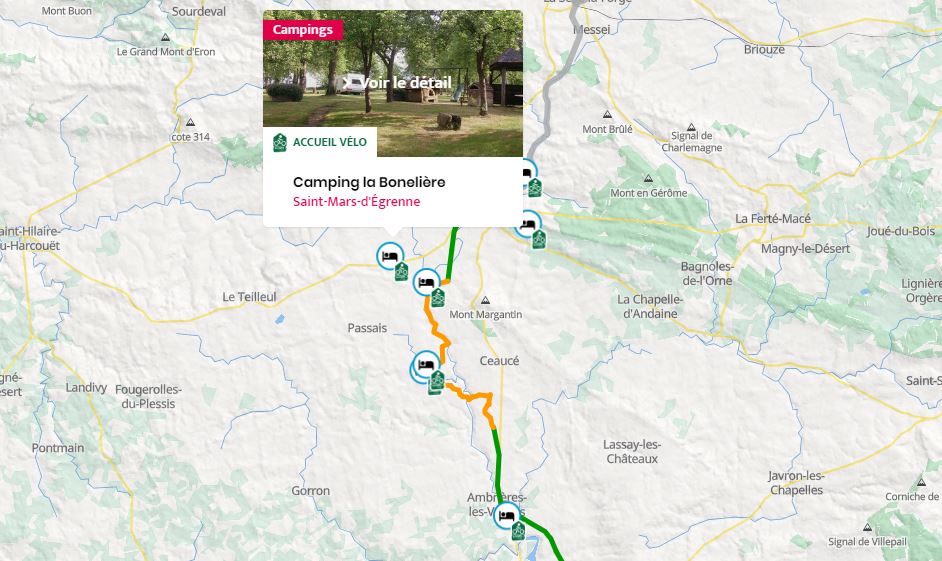 On the pages covering La Vélo Francette's various stages you'll find details on:
- The stage's level of difficulty
- The number of kilometres on the stage
- An interactive map indicating the types of tracks along the stage and the services and amenities available along the way
- The change in altitude along the stage
- A technical description of the stage
- Practical information
- Comments posted by other internet users who've already cycled along the stage
You can download the tracks in GPX format and print out the path and description for each stage.
Calculating how many kilometres to cycle each day
When starting out, consider just tackling shorter stages, between 15km and 25km in length.
If you set off early you can make the most of your day's cycling and an early start also leaves room for manoeuvre in case of unforeseen circumstances.
As you become more accustomed to tackling the cycle route, why not lengthen your daily ride?
If you are used to cycling days out, count on covering an average of 10km per hour, allowing you to enjoy both pedalling along and stopping to explore.
How to calculate your budget?
Of course your budget will very much depend on your choice of accommodation.
For a mid-range hotel, count c.€60 per night for a double room. However, in more renowned tourist spots, count up to 30% extra.
Remember that the price for staying in B&Bs ('chambres d'hôtes' in French) includes breakfast.
Camping offers the cheapest form of accommodation, prices ranging from c.€8 to c.€30 for a pitch.
As to dining out in restaurants, count on anything between €10 and €30 for a traditional type of French meal. Opting for a picnic lunch is a good way of making your budget go further, as well as encouraging you to make the most of the great outdoors! 
Did you like this?
You may also be interested in this...