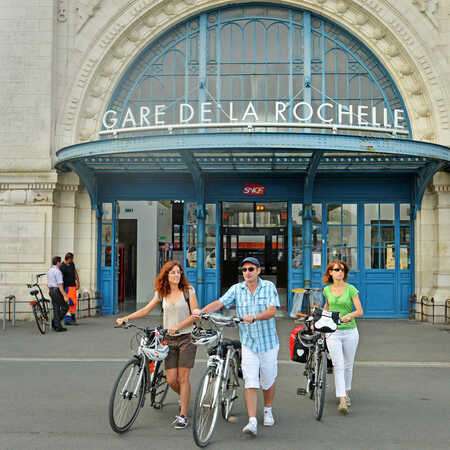 How to join La Vélo Francette cycle route © J. Damase - La Vélo Francette
south
Getting to La Vélo Francette: by ferry, train or plane
The different ways to reach La Vélo Francette.
To reach La Vélo Francette's starting point (be it at the beginning or the end of your cycling trip), to organize a weekend trip, or simply to shorten a stage or two along the route, read on to learn about the different ways of reaching La Vélo Francette and travelling along it using public transport.
With TER (Train Express Régionaux) regional trains, you do not need to reserve in advance to travel on them.
The transportation of bikes is free on such trains, but doublecheck that there is a pictogram of a bike on information about the train you're planning to take to make sure your bike will be allowed on it. Note that spaces for bikes may be limited in number. Also be aware that there may be restrictions on taking bikes on board trains at busy periods. If taking your bike by train, arrive well in advance at the station and, as far as possible, opt to travel outside of rush hours.
INTERCITÉS trains sometimes require that you book in advance. If that is the case, you need to make sure that you book a space for your bike at the same time as buying your ticket.
With these types of trains, there may be restrictions concerning travelling by train with your bike at busy periods.  As far as possible, if transporting your bike by such trains, try to travel outside of rush hours.
You have to book in advance to travel on French high-speed TGV trains.
The price for transporting a bicycle on a TGV train is €10. You can reserve tickets for you and your bike either on the Voyages SNCF website (the SNCF is the French national rail company), on www.capitainetrain.com or at a train station.
For further information, consult the SNCF website section dedicated to  transporting bicycles by train. 
You can also consult the relevant regional TER train websites:
Arriving by plane
If you're travelling from afar, what should you do if you wish to transport your bicycle by plane to use it on La Vélo Francette cycle route?
Note that there is an airport near the start of La Vélo Francette and one near the end, plus one halfway along the route:
If you're flying in to Paris, it's possible to reach La Vélo Francette cycle route by train.
Some airline companies don't charge a supplement for transporting your bicycle, but check on the policies of different airlines before booking.
You need to pack your bicycle in a special bag or box, normally available at the airport.
Check your travel insurance policy to make sure that your bicycle is insured in case of damage during transportation.