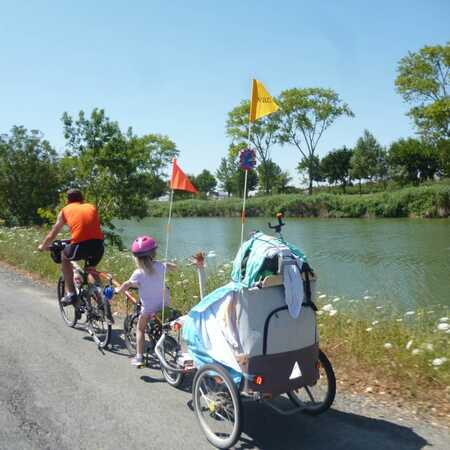 La Vélo Francette de Graines de Baroudeurs © Graines de Baroudeurs
south
They rode la Vélo Francette as a family
Les Graines de Baroudeurs on La Vélo Francette
Cédric, Caroline, Manon (4 years old) & Hugo (18 months) make up this unusual family from the Auvergne region, who love to explore the French countryside by bike, on foot, in a sledge, or in any other way they can find...
 3 days - July 2015
  Coulon > Marans - 80 km (20 to 35 km/day)
Why choose this cycling route?
Of course, the lovely Vélo Francette logo caught our eye but it was mainly the idea of being able to ride on a route with diverse, green landscapes, which is safe, that made us choose this destination.

The kilometres go by easily while admiring the willows, talking to fishermen and contemplating the typical village landscapes of the dried marshlands with their brightly coloured windows.
> Enjoy their adventure on the blog Graines de Baroudeurs (in French)