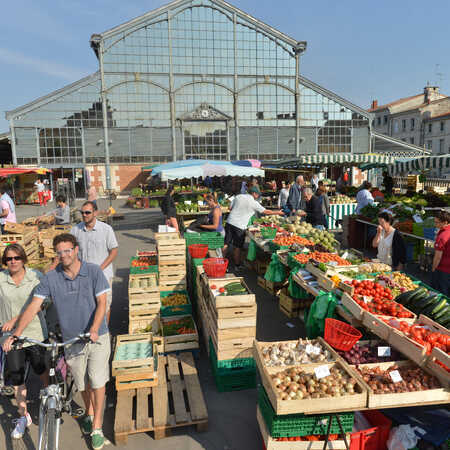 Marché de Niort - La Vélo Francette © J. Damase – Deux-Sèvres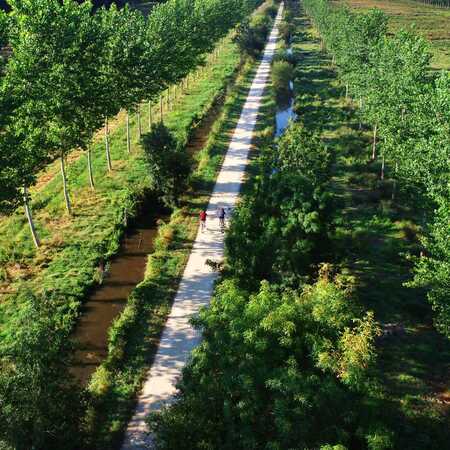 Traversée du marais Poitevin à vélo dans le secteur de La Garette © Pascal Baltrami - La Vélo Francette
south
Niort and its twin keep
Niort is a town that has preserved many historic treasures
Approaching Niort, you encounter the Sèvre Niortaise Valley. The river here has remained quite unspoilt, meandering through meadows before reaching town. Its whole valley is dotted with villages with simple churches and a string of historic châteaux. The Sèvre Niortaise is well suited to bicycle outings and hiking, with so much delightful local heritage to unearth, along with the pretty villages. The shaded riverbanks incite you to rest by the water, under the trees, and perhaps to enjoy a picnic.
Arriving at Niort, you're greeted by the 12th-century twin keep and the large, atmospheric 19th-century iron and glass Halles, or covered market, in Baltard style .
Begun in the 12th century by order of King Henry II of England, Niort's keep  is one of the most significant twin Romanesque forts in France, the last remaning portion of what was a far larger castle. It's of exceptional importance in the history of military construction in the Middle Ages. The south tower was built for Henry II Plantagenet and his wife Eleanor of Aquitaine, while their son Richard the Lionheart had the second tower built.
Nowadays, this twin keep is home to a visitor centre covering the place's exceptional heritage importance, plus it also hosts temporary exhibitions. From the terrace, take in the grand views round and about. If you arrive the last Sunday in the month, consider joining the guided tour that takes place at 3pm.  
Just a short way out of town, the Château de Coudray-Salbart is a 13th-century fort closely linked with a powerful medieval legend, about a tragically transformed woman known as the fairy Mélusine. In medieval times the castle became embroiled in the tensions that existed between the Plantagenets, major lords here as well as kings of England, and the Capetians, the French dynasty during the Hundred Years War.
The town of Niort has proudly preserved vestiges of its strong industrial traditions, notably those based around the production of chamoiserie, objects made from leather, in particular fine gloves. Many of Niort's major industrial buildings have been given new life with recent renovations,  but their presence reminding visitors of the town's past. Niort continues to be a lively commercial centre today. Its heart also beats to the rhythm of the shows and events put on by the four national cultural establishments implanted in the centre, between the startling Jardins de la Brèche public gardens and the banks of the Sèvre Niortaise. Street performance, contemporary music and photography are particularly put to the fore in these national artistic centres.