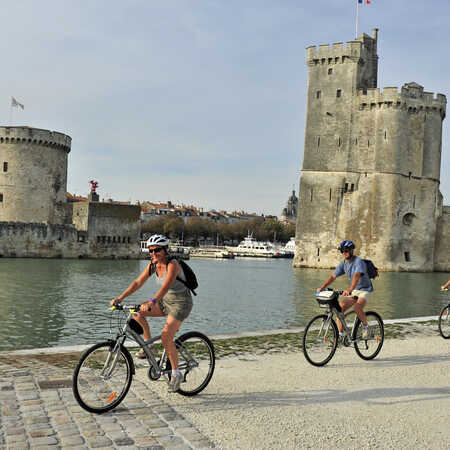 A vélo sur la Vélodyssée - La Rochelle © La Vélodyssée ® J.Damase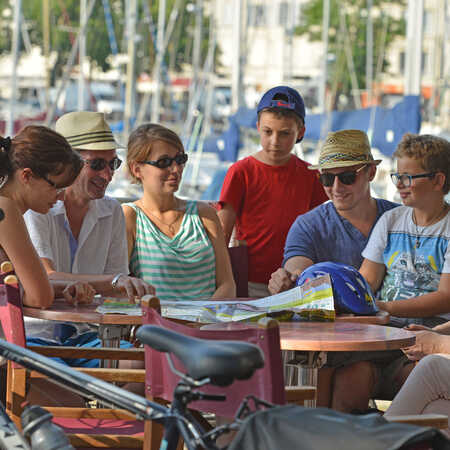 Repas sur le Port de la Rochelle - La Vélo Francette © J. Damase - Charente Maritime
south
Discover La Rochelle by bike
The city of La Rochelle
La Rochelle's relationship with the sea could be called a love story! The city's riches came from its seafarers trading across the oceans. In fact, up until the 15th century, this was the leading French port on the Atlantic.
In recent times, La Rochelle has been pioneering in encouraging cycling in the city; in France, La Rochelle is synonymous with cyclists enjoying green outings against deep blue backdrops, as you can easily ride through this sunny town's many parks with the sea in the background!
La Rochelle further calls to mind sunshine lighting up radiant white stone facades, focusing your attention on the ravishing city scenery that presents you with endless surprises as you wander round.
Much of the town could be described as an open-air museum. The historic centre is packed full of architectural treasures. There are fine examples of period styles to stop and admire: from medieval times, the three magnificent port-side towers and the arcaded streets; from the French Renaissance, edifices such as the extravagant town hall; from the Ancien Régime, the grand homes built by the city's shipping magnates; and from the 19th century, the atmospheric covered market and the city parks.   
As to the Vieux Port, this central historic port makes an unforgettable sight, its entrance guarded by those mighty medieval towers. With its wet dock, dry dock and fishing dock, the Vieux Port used to serve many purposes, but it has now been turned into a marina.
Stroll along the quays, perhaps with an icecream in hand, or stop at any of the café and restaurant terraces sprawling across the cobbles, or then take in the craft markets regularly held here. 
Aquarium La Rochelle
Get off your bike to dive to the bottom of the ocean here, in one of the largest privately-run aquaria in Europe!
The Aquarium La Rochelle is ideally located in the town centre, beside the marina reserved for larger yachts.
Come and travel across the world's oceans and seas on an adventure of two hours or more that's bound to enchant children and adults alike.
The Aquarium La Rochelle is like a great vessel in glass, and is home to over 12,000 marine animals, living in three million litres of sea water!
This Center for Sea Turtles , dedicated to the study and conservation of marine species, encourages every visitor to immerse him- or herself in the glorious biodiversity of the world's seas, from fragile jelly fish to fascinating sharks. Come here to learn about the oceans, and to dream about them.
The Aquarium La Rochelle has been voted the top aquarium in France by Tripadvisor reviewers!
Visit the Aquarium La Rochelle