Au fil de l'eau, Nature & small heritage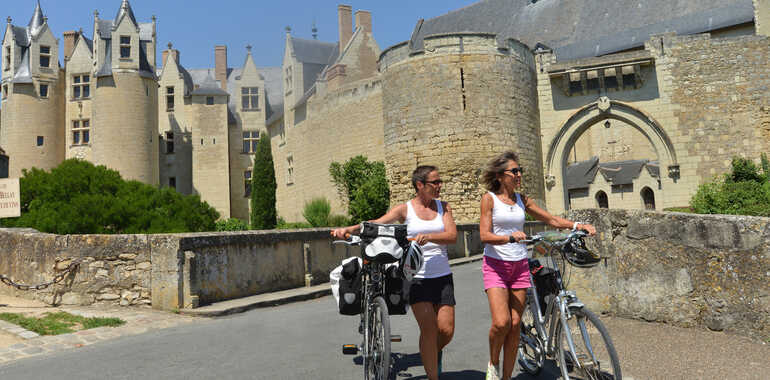 From Montreuil-Bellay, you descend back down to the Thouet River, heading for Thouars. The véloroute runs peacefully beside the river. La Ballastière Lake makes for a pleasant stop before you continue towards Taizon. Here, in centuries past, travellers had to pay a toll to cross the bridge. You can make out the town of Thouars on the horizon…
The route
Follow the signs indicating La Vélo Francette / Le Thouet à Vélo. You ride along roads shared with motorised traffic, but with some stretches of cycle track provided along the busier stretches of road you sometimes need to take. The slope at Crevant is 12%, so on this final, difficult portion of the stage, some cyclists may wish to dismount.
Tourist Offices
SNCF Train Services
Stations at Montreuil-Bellay and Thouars: on regional TER line 14 Les Sables-d'Olonne > Bressuire > Saumur
www.ter.sncf.com/poitou-charentes
Don't miss
Montreuil-Bellay: the château and fortified town dominating the Thouet River
St-Martin-de-Sanzay: La Ballastière Lake and its crazy golf course; the Romanesque church
Taizon: the historic bridge, plus its rest area
Ste-Radegonde: the allotments beside the Thouet; the Promenade des Pommiers with its ford
Thouars: designated a Ville d'Art & d'Histoire thanks to its rich cultural heritage: the château des Ducs de Trémoïlle; the historic Pont des Chouans bridge; the churches dedicated to St Laon and St Médard; the local Ecomusée du Moulin de Crevant; the Imbert Floral Gardens; the Henri Barré Museum (on local history and crafts)
They did it!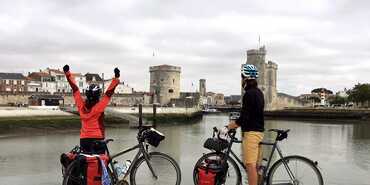 10 jours sur La Vélo Francette - par Laura & Vincent