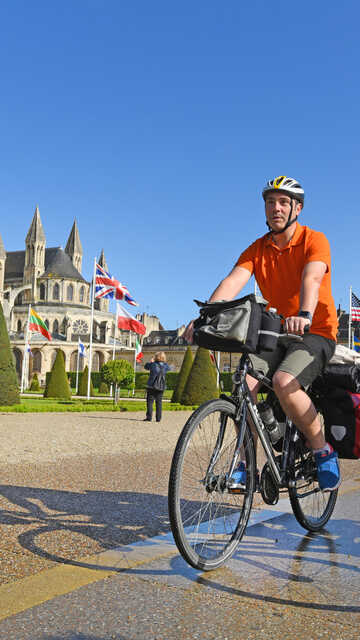 Voie verte de Caen à vélo en couple sur la Vélo Francette © Calvados Tourisme - J. Damase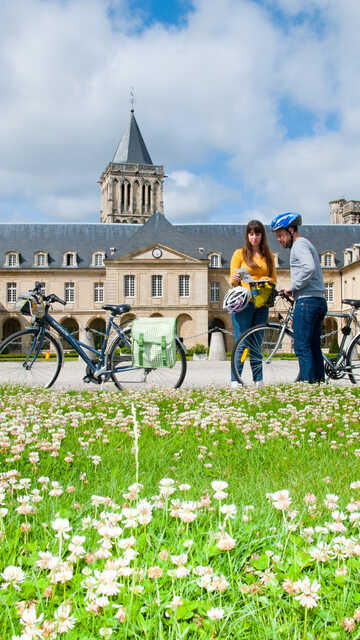 L'Abbaye aux Hommes à Caen - La Vélo Francette © Calvados Tourisme - J. Damase
south
Caen: from the Middle Ages to the Second World War
The historic city of Caen was begun for William the Conqueror. Its amazing medieval buildings include the castle of the Norman dukes and the Abbaye aux Hommes and Abbaye aux Dames. Fiercely fought over in 1944, Caen has a Mémorial that is a major museum encouraging reflection on both war and peace.
The construction of the Castle of the Dukes of Normandy in Caen  started  around 1060, by order of William, Duke of Normandy, future conqueror of England. It grew into one of the largest forts in Europe, covering 5.5 hecatres. The extensive ramparts, the Porte des Champs gateway, the vestiges of the great keep, the Exchequerer's Hall and the Church of St George all testify to the glorious past both of this castle and of the city below. Locally quarried Caen stone was used to erect all these buildings. This high-quality stone was excavated on a massive scale from the 11th century on and was even exported to England to help build such famous edifices as the Tower of London, Westminster Abbey and Canterbury Cathedral!
Nowadays, the Château de Caen holds two fine museums, the Musée de Normandie (on Norman history) and the Musée des Beaux-Arts (on the fine arts).
The tomb of William the Conqueror, who was Duke of Normandy before he became King of England, is in the heart of the soaring abbey church of the Abbaye aux Hommes, founded by William in 1063. The abbey expanded through time and is now home to Caen Town Hall. You can visit the cloister, wood-panelled rooms hung with historic paintings, the Guards' Room and the grand formal staircase. As to William's wife, she founded Caen's equally grand Abbaye aux Dames, whose church you can visit, while the rest of the buildings have become the home of Western Normandy's Regional Council.
On 6 June 1944, D-Day, Caen found itself inextricably linked with world history, as the Allied forces landed on the beaches a short way north of town. Fiercely defended by the occupying German troops, the city would be largely destroyed in summer 1944. On the north side of town, towards the D-Day landing beaches, the Mémorial de Caen is an unmissable museum covering the terrible so-called Battle of Normandy that raged through summer 1944.
The Mémorial de Caen sets the Second World War in period context, charting the rise of fascism in Germany before covering the Battle of Normandy and the wider war, including the Holocaust. There are numerous films to view too at the museum.
The Mémorial de Caen is also dedicated to emphasizing the values of peace and reconciliation through the history of the 20th century.
Visit the Caen Mémorial pour la Paix
favorite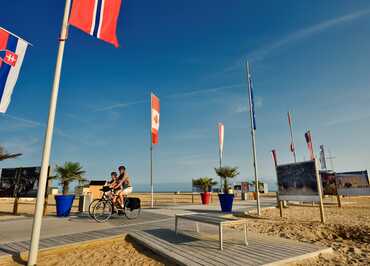 favorite